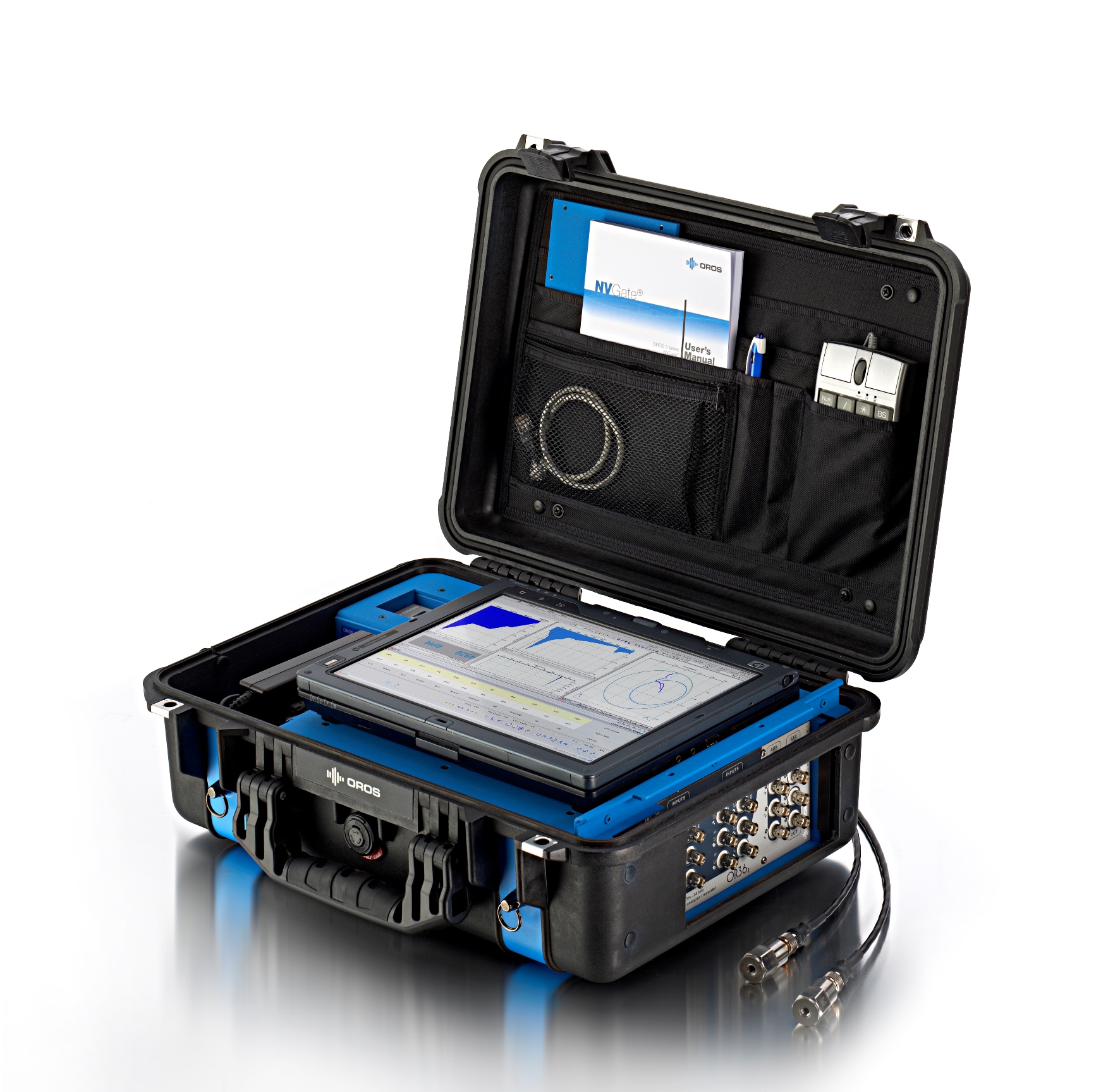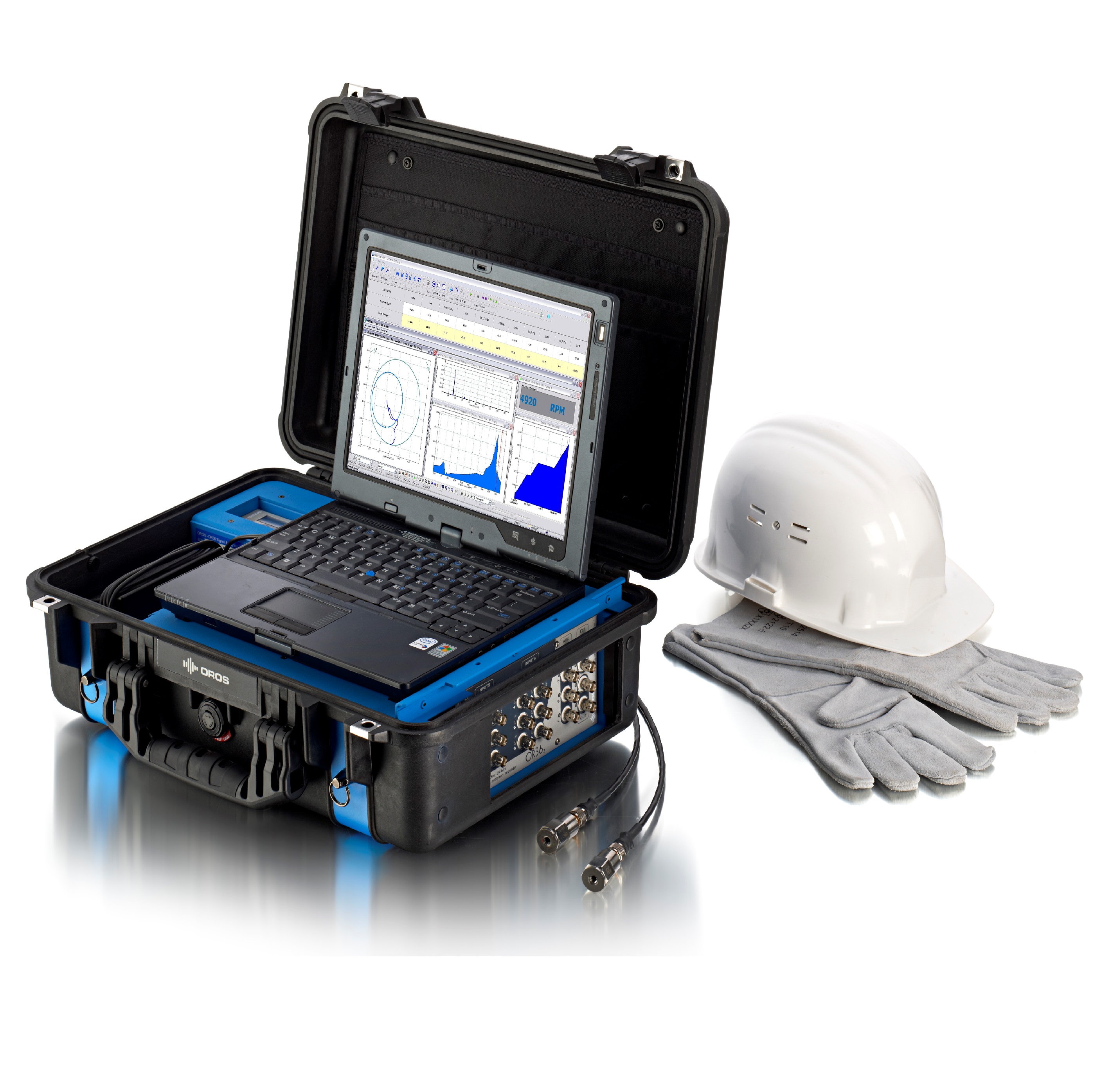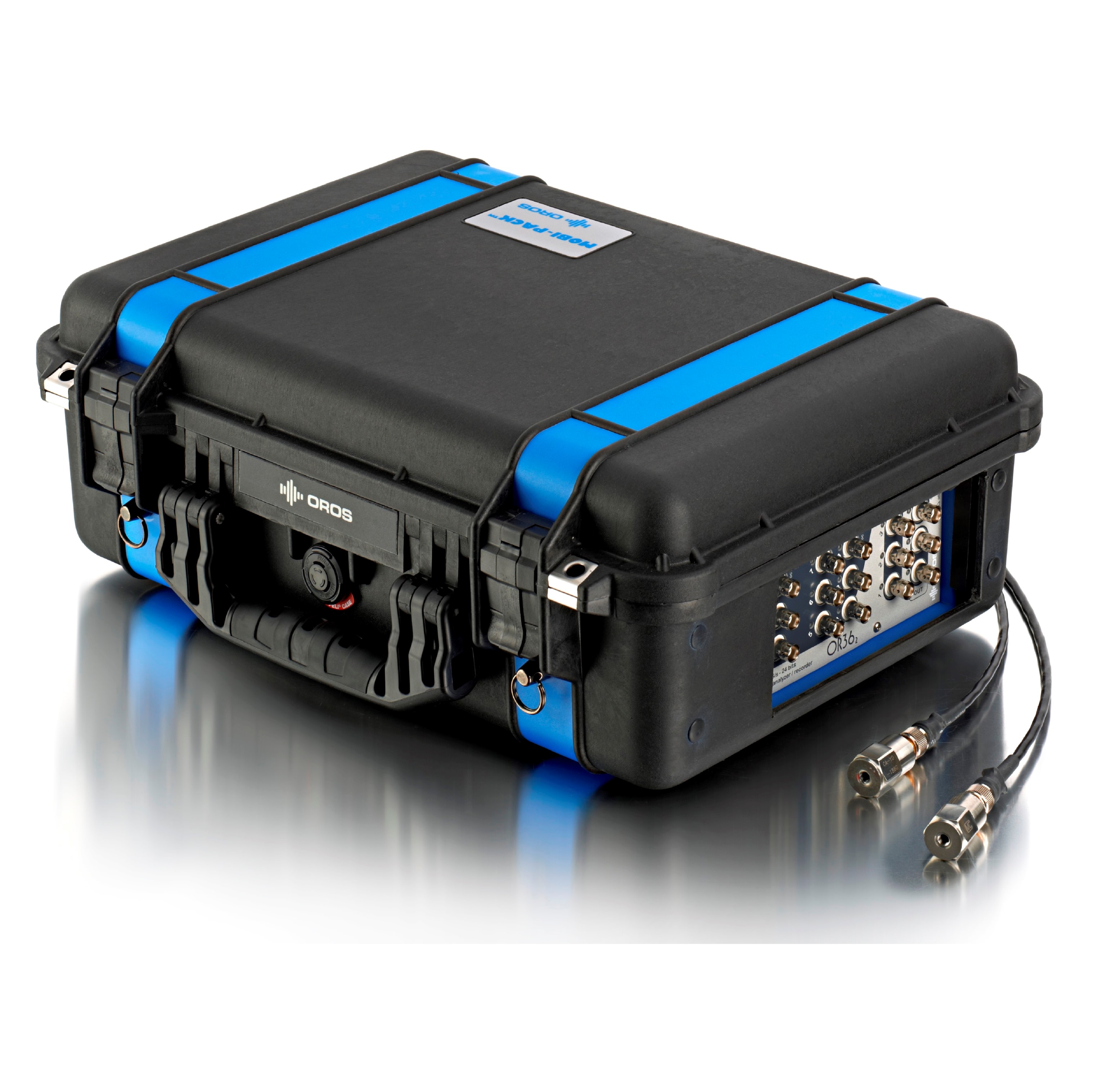 Main Features
All-In-One analyzer, 4 to 16 channels
Portable
Field Testing: Rugged, Rough, Reliable
Up to 40 kHz and 25.6 kHz bandwidths
PC Based, 100 Mbits/s Ethernet Connection
Touch and measure: Tablet Operation
4, 8, 12 or 16 universal inputs

± 40 V range, 24 bits
Dynamic: AC/DC/ICP®/Float/TEDS
Parametric: 10 S/s 50 Hz and 60 Hz rejection

Accelerometers, Proximity Probes, Microphones

2 to 6 triggers/tachometers - 2 to 6 generator outputs
100kHz sampling rate
Single Cord Power supply and internal battery
Desktop extension leaf
Stand alone recorder (D-rec) with removable 60 GB hard drive

Highly Portable with its Rugged and Compact Design

Mobi-Pack™ is designed for noise and vibration specialists traveling everywhere to troubleshoot issues from an offshore oil platform to the turbine side of a nuclear power plant.
It can be practically carried and used in the field thanks to its rugged design. Because of its light weight, it can be checked with luggage or even carried on board an aircraft.

Real-time Analyzer and Recorder

Mobi-Pack™ can both analyze real time data or record raw time data for later processing.
Using its 16 channels will let you carry your tests with minimum downtime and minimized number of machine stops.
Made for the field

Mobi-Pack™ thrives in dirty, dusty, and humid places or magnetic fields making no compromise on the power and precision of the instrument. Shocks and vibrations during transport or even operation will not prevent it from acquiring the critical data it is meant to capture.
Moreover, the Mobi-Pack™ will even continue acquiring data with the same precision in high shock and vibration environments.
Direct Recording with Removable Disk

Mobi-Pack offers flexible recording capabilities with its Mobi-Disk™ and its integrated D-rec control panel.

Instrument recording modes:

Monitor: control your recorded signals and spectra through the Ethernet port
Back-up: save your time data continuously with real-time analyses
Stand-alone: using the control panel, set up and record without PC



Dual ports removable disk:

Personal data storage: keep your data with you while sharing the instrument with your colleagues
High performances: reinforced (SSD available), large capacity (60 GB), high throughput (40 channels @ 40 kHz)
Direct post-analysis on your PC with USB
[이 게시물은 최고관리자님에 의해 2016-01-12 16:30:58 Sound & Vibration Analyzer에서 이동 됨] [이 게시물은 최고관리자님에 의해 2016-01-12 16:31:23 자료실에서 이동 됨] [이 게시물은 최고관리자님에 의해 2016-01-12 16:32:31 Sound & Vibration Analyzer에서 이동 됨]